Yong Ding won the tender for the Software Campus with his project. The first eleven students of the initiative were officially welcomed at the sixth IT summit of the Federal Government in the presence of the German Chancellor Angela Merkel.
The Initiative Campus System has been initiated at the IT Summit 2010 in Dresden and supports young computer scientists during their work at the final papers. The students are going to be integrated in a cross-corporate network and will acquire technical and economic competencies. Campus System is a complementary program which includes teaching, research, innovation and entrepreneurship. It was founded to counter the shortage of IT manager in the IKT industry.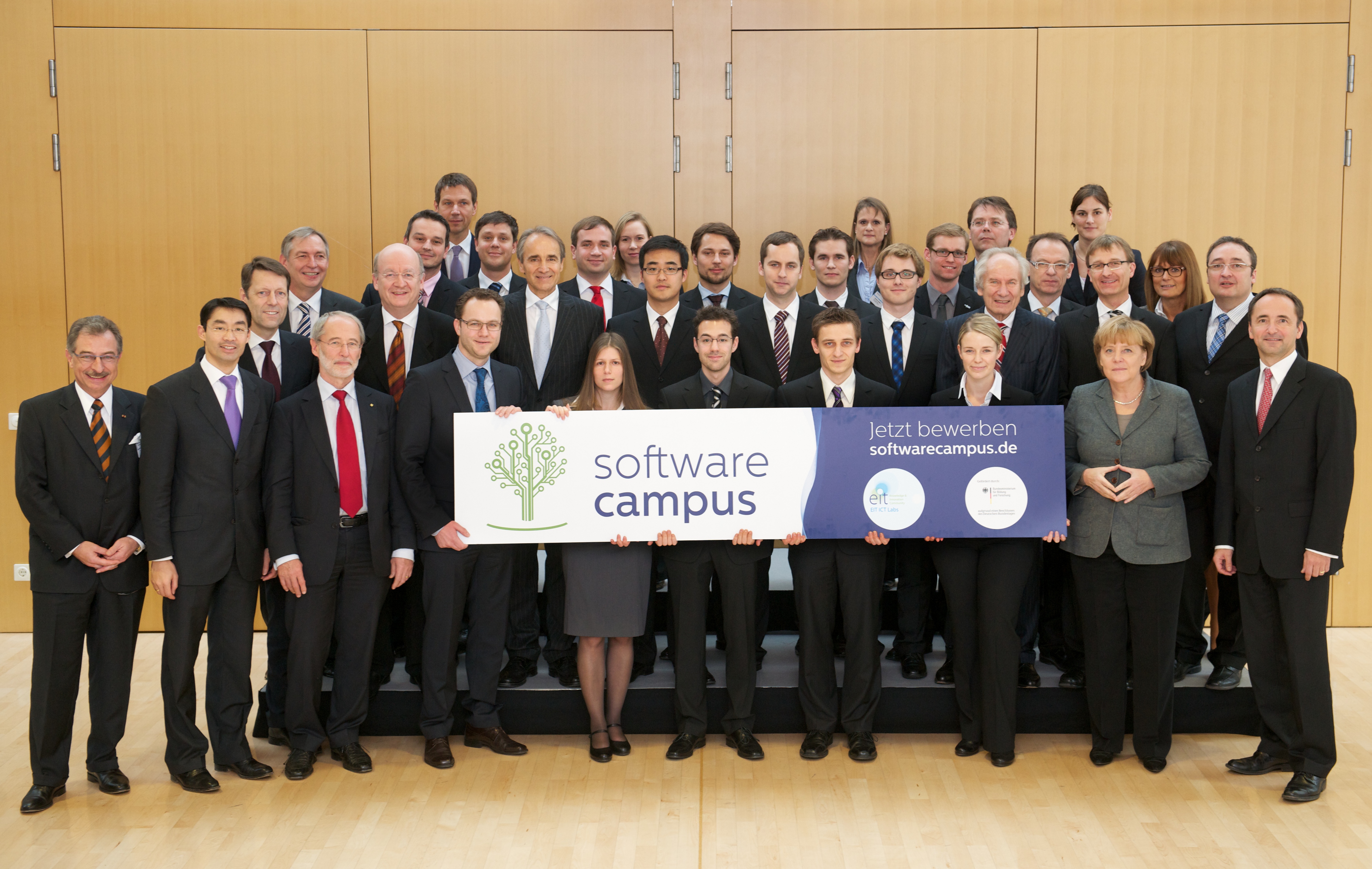 (© 2011 Wolfram Scheible - Used unter licence of EIT ICT Labs GmbH)

From the year 2012 onwards 50 to 100 micro projects, which are proposed by the students themselves, are going to be supported by the Federal Ministry of Education and Research with up to 100.00 €. Within the scope of a mentoring program the students are going to be supported by academic and industrial cooperation partner in their work on their thesis. The results of the projects in the context of the initiative Campus System will be published and presented to the other participating students as well as academic and industrial cooperation partner at the annual summit-conferences.

The project Software Campus is sponsored by the Technical University of Berlin, Technical University of Darmstadt, Karlsruher Institute of Technology, Technical University of Munich, University of the Saarland, the research partner the German Research Centre for Artificial Intelligence (DFKI), the Fraunhofer ICT Group, Max Planch Institute for Information Technology, the industrial partner Robert Bosch GmbH, DATEV eG, Deutsche Post AG, Deutsche Telekom AG, SAP AG, Scheer Group GmbH, Software AG. EIT ICT Labs GmbH undertakes the organizational implementation while the Federal Ministry of Education and Research is supporting the initiative. The application deadlines starts with the summer term 2012. It includes besides a selection process a formal application in form of a research proposal for the micro project at the Federal Ministry of Education and Research.

Yong Ding participated successfully in the pilot phase and was officially welcomed with the other first students within the scope of the IT Summit 2011 in Munich in the presence of the German Chancellor Angela Merkel. The research project of TecO: hybrid approaches to control consumers, distributors and generators in the low and medium voltage range of a Smart Grid:
Implementation distributed control systems with feedback intelligence in the low and medium voltage range.

The approach pursues the implementation of three layers for regulation in real time, for tactical and strategic regulation.

A combination of feedback distributed control systems with research efforts of Organic or Automatic Computing (MAPE-K model)

TECO handling time: 2012 up to 2014

Industrialpartner of TECO: SAP AG